MAGIC TRICKS 1
                                                            MAGIC TRICKS FOR BEGINNERS

TRICK # 1
Eleven Fingers
The art of magic often involves the
seeming ability to defy the laws of
logic With this stunt you can convince
your
friends that you have eleven fingers !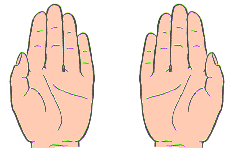 REQUIREMENTS: Ten Fingers
Tell your friends that you have eleven fingers,
and you can prove it ! Using your
right forefinger to point with, touch each fingers
of your left hand, counting "One, two, three, four,
five",
Then with your left forefinger count the fingers
on your right
hand, "Six. seven , eight, nine, ten".
Say "Funny, I know I had eleven. Let's try
again".
This time count backwards,
pointing to the fingers of the left hand say "Ten , nine
, eight, seven. six….", Then
stop, hold up the right hand and say "Plus five
equals eleven !. Do this quickly,
without Pausing !

TRICKS # 2
Houdini Rubber Band Escape
A miniature escape that demonstrates how a solid can pass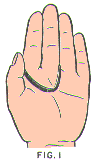 through solid !
REQUIREMENTS : One  medium sized rubber
band.
This is sometimes also called the Hopping
Rubber Band. You loop a rubber band over your
first two fingers, and then it inexplicably jumps
to the second two fingers.
Begin by placing a rubber band over your


forefinger and middle finger as shown in figure
1. Bring the rubber band all the way down to the
base of the fingers. Hold your hand so its back is
facing the audience. Pull the rubber band with your
other hand
to show that it is solid, and then at a point when the
rubber band is still pulled a little bit out towards
you, curl your fingers down as in Figure 2.
From your audience's view, it looks like the
rubber band is still around only two of your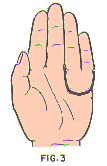 fingers
Pause for just an instant, and then
over to your ring finger and Pinky (Figure 3 ) !
To make the rubber band jump back to your
first two fingers follow  the same moves again.
If you twist a second rubber band over the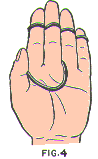 fingers above the first band, as in Figure 4, so
that the fingers appear tied together, and then
follow the same moves for the tricks as above, the
first rubber band will be able to jump.
seeming to penetrate right through the second hand.

TRICK # 3
The Self-Tying Handkerchief
A knot instantly ties itself at the end of a handkerchief !
REQUIREMENTS :One cloth handkerchief with a knot tied
in one corner.
Tell your friends that you can tie a knot in a
handkerchief using only one hand !

Pull the handkerchief out of your pocket, keeping
the knot hidden in your hand (Fig. 1). Pick up the
opposite corner of the handkerchief with the other
hand, and grasp it as in Figure 2.
Snap the handkerchief, releasing the end without
the knot. Pick up the hanging end with the other
hand as before and repeat, again releasing
the end


without the knot.
On the third try, let go  of the knotted end as
shown 
Figure 3) , instead of the expected corner.The movement of the hand conceals the switch, and
makes this a very baffling effect